French Tutoring
Nurturing Minds, Moulding Lives.
[Work in progress] At Step Up Academy, we understand the challenges. Many parents face when it comes to helping their child with a language they do not speak at home. Our French program is designed for students of all French backgrounds, providing an enriched experience for students in Core, Extended and Immersion programs. Our goal is to focus on the four strands of the Ontario French Curriculum (listening, speaking, reading, and writing) in order to develop French language learning and equip our students with the skills to take part in authentic conversations.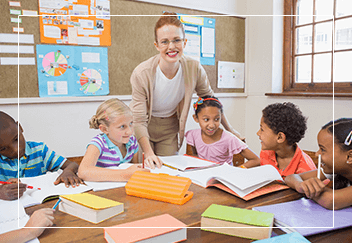 Listening Skills:
Develop a range of listening strategies to interpret messages while interacting in French.
Conscientiously make use of various listening strategies before, during and after listening to oral French texts.
Recognize familiar words and make connections between French and English or their first language as they listen to a read-aloud.
Communicate their ideas in small-group interactions and respond constructively to ideas of their peers.
Identify formal and informal expressions used in oral texts and make use of learned expressions in conversation.
Speaking Skills:
Build subject-specific vocabulary using words, images and actions to communicate feelings and share information.
Present personal point of view using familiar words and expressions.
Learn to speak with a smooth pace, appropriate intonation and accurate pronunciation based on rehearsed communication.
Become familiar with various interaction strategies, including asking questions, paraphrasing information, elaborating on personal views, acknowledging viewpoints of their peers, and requesting clarification when meaning is unclear.
Identify areas of strengths and needs in order to plan effectively to become a better public speaker.
Reading Skills:
Focus on decoding and phonemic awareness by breaking down words and concentrating on French vowel and consonant sounds.
Activate prior knowledge through class discussions prior to reading French texts.
Make use of various reading strategies, including making predictions about text before reading, highlight familiar words and expressions during reading, and summarize key facts and details after reading.
Read and analyze a variety of French texts about about various French-speaking communities.
Evaluate information and ideas in a variety of media texts (online texts, posters, ads, songs, poems, social media, current events in newspaper articles).
Writing Skills:
Encourage students to use familiar French expressions, vocabulary words, as well as various verb tenses (présent, passé composé, futur simple, imparfait, etc.) to explore various writing scenarios.
Promote use of vocabulary templates and graphic organizers to brainstorm, plan, develop and organize ideas before writing.
Make use of success criteria and "je peux" (I can) statements for self-evaluation, as well as student interest surveys to gauge student interests, strengths, and needs in writing.
Become familiar with the different stages of the writing process (pre-writing, drafts, revising, editing, and publishing).
Explore a variety of age- and grade-appropriate writing forms using basic structural and stylistic elements.