Home School
Program
JK – Grade 8
At Step Up Academy
Home Learning and Homeschooling bring with it a range of experiences, from being extremely rewarding and more time with your children, to challenges with engagement, planning, and ensuring your child is meeting all the expectations for the year. The Home Learning/Homeschool Support Program at Step Up Academy addresses these very needs as our teachers develop long range plans, conduct diagnostic assessments to get to know your children and develop the most effective program to support their learning from home.
The
Home Learning / Homeschool Support Program

is offered online and in class to offer families with the right kind of support and accessibility to fit a range of schedules

One of the main challenges families experience is getting their child to a class, and to support that, we have developed an engaging online platform for learning that is effective and ensures success.
Specialized Features of the Home Learning Home School Support Program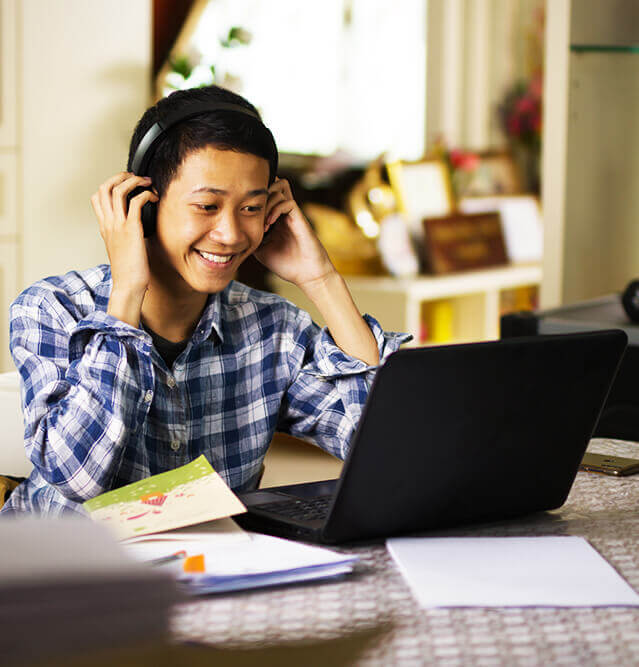 Live teacher for students to engage with and learn from during the class time.
Specific lessons focused on the curriculum are prepared and taught to teach the students new content each class.
Multimedia tools are used to create engaging lessons for the students.
Social interaction and collaboration with peers to build communication skills.
Rich, engaging learning beyond worksheets.
Work is focused on the curriculum expectations your child is focusing on in school.
Diagnostic and ongoing assessments to track student progress.
Exclusive online program – Step Up LIVE to track student development.
Challenges Parents Experience with Home Learning/ Homeschooling
Student Engagement in Learning.
Preparation of Activities and Lessons.
Finding the Right Teaching Material.
Understanding Curriculum Expectations.
Knowledge of Content Being Taught.
The Time to Commit to Learning.
Accommodating for Different Learning Needs.
How the Home Learning /Homeschool Support Program Helps Parents
Our teachers integrate different activities that are whole group and individual, as well as multimedia to help students make connections and stay engaged.
As certified teachers, we have access to a range of resources as well as many tried and tested tools we use to fulfill curriculum expectations.
We develop all our teaching material in house, week by week for the students we have. This allows us to ensure the material we use to teach is just right for each child.
As certified teachers, one of the first things we are trained in, is understanding and fulfilling curriculum expectations.
Your child will be paired with a teacher who is certified in the specific subjects and age groups your child is learning.
Our job is to teach. We always have time to spend learning with your child.
We have extensive experience developing and working with IEP's and students with various exceptionalities. We are always looking for ways to design our classes around our learners with accommodations and modifications.
Program Options
Option 1
One Day a Week
(Mon-Thurs, Sat or Sun) for 2hrs Each Session
Grade 2 to Grade 12
English / Math / Science / French
Option 2
Two a Week
Two Days a Week (Mon/Wed or Tues/Thurs) for 1.5hrs Each Session
Pre-K to Grade 8
English / Math / Science / French
Option 3
Three a Week
(Mon-Thurs) for 2hrs Each Session
Kindergarten to Grade 8
English / Math / Science / Social Studies
Class Structure
Various options for times with 2 hour and 1.5 hour models.
Every class starts with a pre-structured lesson focusing on specific curriculum expectations and a range of activities.
Students are then given time to focus on independent work, allowing the teacher to track their progress, provide one on one feedback and check for understanding.
Students are given a short movement break to ensure they are engaged throughout the class.
At the beginning of each class, there is a check-in to see what students are doing in school to align the work done at Step Up Academy with the work in school.
Students are assigned homework to continue the learning beyond class time.
Frequently Asked Questions
1. Are the classes one on one or group?
We offer classes in both one on one and in small group.
2. How long are the classes?
The length of your class depends on which option of the program you sign up for. Our shortest classes are 1 hour and 30 minutes and our longest classes are 2 hours.
3. Can I leave my child during the classes?
If your child is learning online, you will still need to remain at home because the teacher is not on-site, however you can set your child up and leave the room.
4. How will the classes help my child with school?
Our teachers ask the students in every class what they are doing in school and align the work we do in class with the school work. This way, we are able to have a direct impact on student success in school.
5. How will I know if my child is improving?
We conduct ongoing assessments to gage student progress and development. The assessment results are shared with parents and students to ensure everyone is informed. Additionally, we send home student progress reports to allow parents to follow along with the growth.
6. My child has an IEP. How will you support them?
During our intake process, we ask all parents if their child is in a specialized program or has an IEP and if so, to share with us the supporting documents we can ensure the necessary modifications and accommodations are met. Since our classes are all small group, we are easily able to provide students with all the support they require as listed in their IEP.
7. If my child is learning online or learning from home, how do these classes help?
The Home Learning/Homeschool Support Program focuses on teaching students the specific curriculum expectations for their grade, while also allowing time for them to bring to class questions based on what they have learned in school, or things they did not fully understand. There is a block of time put aside for this form of responsive teaching during each class to ensure all student needs are met.
8. I am homeschooling my child. How do these classes help?
The Home Learning/Homeschool Support Program is designed to give students face to face live access to a teacher. With the teacher on hand, you can be reassured that your child will be taught the specific concepts, strategies and content that is required of them. This is the main form of support provided to children who are being homeschooled. Additionally, the classes are planned with specific curriculum expectations in mind. This will ensure that your child is learning content and building skills that will allow them to fulfill the curriculum expectations for the year.
9. What kind of work do the students get?
Students receive work via Google Docs that is challenging, activates higher order thinking skills, and is non-repetitive. A core philosophy at Step Up Academy is to ensure that we are fostering a Growth Mindset. This means that we are always looking to challenge students. In regards to their work, this ensures that your child will always be receiving work that pushes them to grow and challenges their learning. All the work we provide our students with is developed at Step Up Academy by our extremely qualified and passionate educators.